TMJ Specialists of Los Angeles
Significantly relieve chronic jaw pain caused by TMJ.
Restore jaw function & comfortably eat the food you want.
20,000+ procedures completed over 60+ years of experience.
State-of-the-art facility with in-house anesthesiologists.
Low-interest financing plans to fit your budget.
Call (310) 842-4811 today to schedule your consultation!
World-Class Oral Surgeons
We have a team committed to quality, innovation, and making you our total focus the moment you meet us.
Steven B. Kupferman,
DMD, MD, FACS
Dr. Steven B. Kupferman is a board-certified oral and maxillofacial surgeon. His focus on jaw surgery and treatment of jaw dysfunction allows him to provide patients with specialized care.
Benjamin W. Walline,
DDS, MD, FACS
Dr. Benjamin W. Walline focuses on jaw restoration, including complex cases that allow patients to regain full functionality of their jaw. He is board-certified in oral and maxillofacial surgery.
Robert J. Relle,
DDS, FACS
Dr. Robert J. Relle is certified by the American Board of Oral and Maxillofacial Surgery. His areas of clinical focus include corrective jaw surgery, dental implants, wisdom teeth removal, and more.
Jay K. Lee,
DDS, MD, FACS
Dr. Jay K. Lee provides treatments ranging from jaw reconstruction to dental implants, as well as major, hospital-based surgeries. He is certified by the American Board of Oral and Maxillofacial Surgery.
Brittany L. Sonnichsen,
DMD
Dr. Brittany L. Sonnichsen focuses her practice on dental implants, wisdom teeth removal, jaw surgery, and other oral surgery services. She also holds board certification as an oral and maxillofacial surgeon.

---
What Is A TMJ Disorder?
TMJ disorders are a family of problems that affect your temporomandibular joint, which is the joint that allows your mouth to open and close and move side to side smoothly (your jaw joints). Our oral surgeons are TMJ specialists who can help diagnose and correct TMJ problems from our office in Los Angeles. If you are experiencing discomfort, tightness, pain, clicking or snapping sounds in your jaw, or other symptoms, you may have a TMJ disorder.
---
Symptoms of TMJ Disorders
Any combination of the following symptoms and risk factors may relate to a TMJ disorder:
Soreness or stiffness around the jaws or teeth
Frequent headaches
A clicking or grating sound when opening and closing the mouth
Clenching or grinding of the teeth during sleep
Pain when opening the jaw or biting into certain foods
Jaws that snap open or shut (because of a general sense of tightness)
A history of arthritis
Sensitive or worn down teeth
TMJ Arthroscopy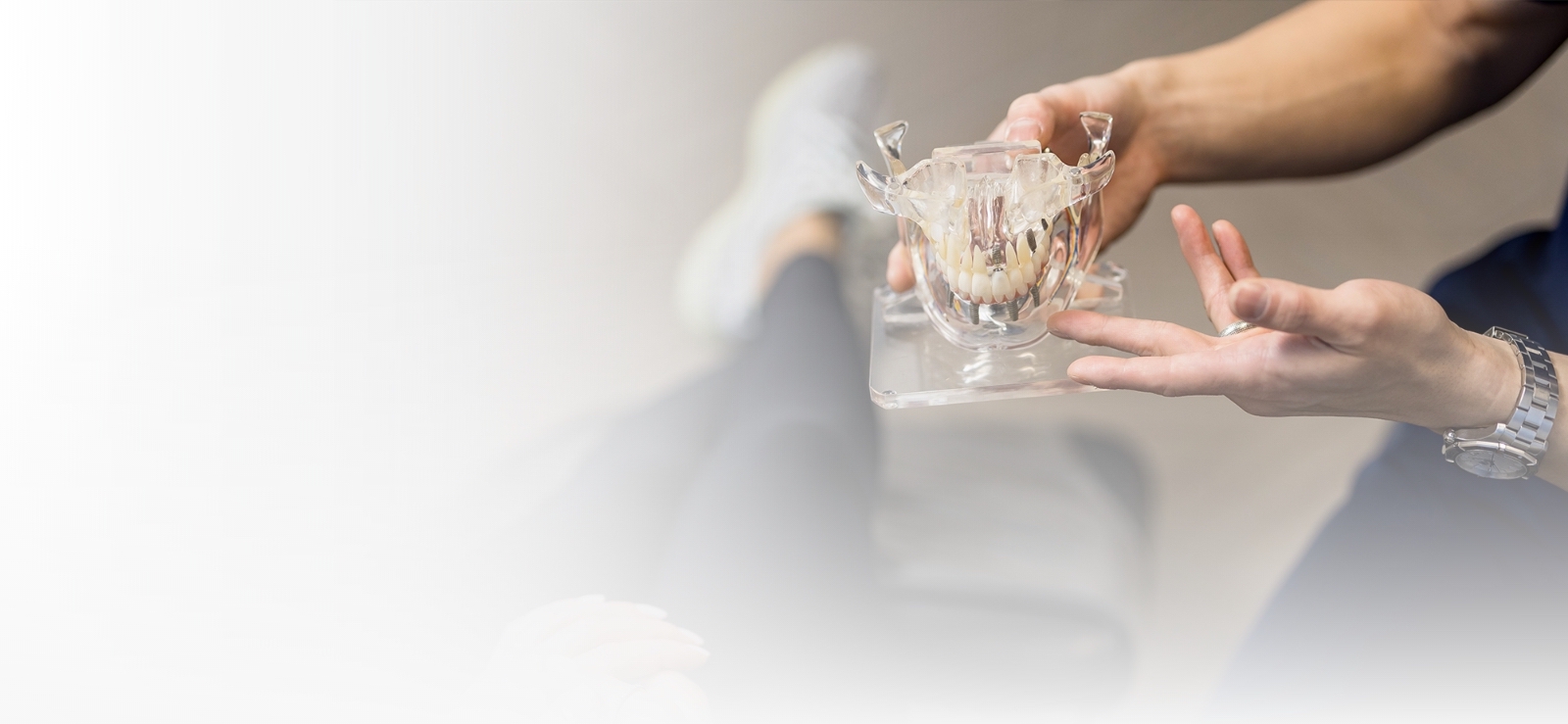 Is TMJ Treatment Right for You?
There are many reasons that people develop TMJ disorders, some of which can be controlled through simple lifestyle changes. Excessive clenching or grinding of your teeth can put extra stress on the jaw muscles, causing tension and other problems. The use of a night guard can sometimes relieve the tension in overstrained muscles. In other cases, surgery may be necessary to relieve chronic jaw pain. Regardless of the cause of your TMJ disorder, treating jaw issues early is the best way to prevent future discomfort and complications.
TMJ Treatment at LACOMS
In our experience, the best TMJ disorder treatment includes a personalized combination of lifestyle changes and professional assistance, such as surgical treatment. If your symptoms are more severe, we may recommend jaw surgery to address the root cause of your TMJ disorder, which will better provide long-lasting results.
Jaw Surgery for TMJ Disorder Treatment
Sometimes lifestyle changes and techniques alone are not enough to correct the condition. In this case, your doctor may recommend jaw surgery to effectively control and treat your symptoms. At the Los Angeles Center for Oral & Maxillofacial Surgery, we offer the following jaw surgeries to treat TMJ disorder:
Arthrocentesis
TMJ arthroscopy
Modified condylotomy
Open-joint surgery
For more information on each surgery, please contact us. We're happy to answer any questions you may have regarding surgical treatment for TMJ disorder.
---
Financing Your TMJ Surgery
CareCredit
CareCredit is a credit card that patients can use to pay for out-of-pocket expenses. With CareCredit, patients can often finance their entire procedure without any upfront costs or annual fees. This allows patients to start treatment sooner with low monthly payments rather than a large upfront cost. To learn more or apply for financing through CareCredit, visit the official CareCredit website.
LendingClub
LendingClub provides personal loans that you can use to pay for medical and dental care. There is a fixed term, a fixed interest rate, and regular monthly payments to repay your loan over time. LendingClub funds loans up to $40,000, and you can receive your funds in as few as 3 days. To apply for your personal loan or learn more about LendingClub, visit the official LendingClub website.
---
Real Patients. Real Results.