Tooth loss is a common occurrence resulting from traumatic accidents, disease, or simple dental neglect. If you have lost a tooth or anticipate needing teeth extracted, it is essential to know your options for tooth replacement. For most patients, dental implants represent the most beneficial solution. Our doctors have 60 years of combined experience providing implants for patients throughout the Los Angeles area.
---
Why are Dental Implants the Preferred Method of Tooth Replacement?
Dental implants have become the preferred option for replacing damaged or missing teeth. There are several reasons for this:
Dental implants function as substitute tooth roots that prevent the bone deterioration that typically occurs when teeth are lost or extracted.
Implants are the only method of tooth replacement that preserves the adjacent teeth. (Dental bridges, for example, require neighboring teeth to be sanded down.)
According to clinical studies, dental implants have a long-term success rate of over 95% compared to other options for tooth replacement.
With the proper care, dental implants should last a lifetime, which means there is seldom a need for additional procedures.
Benefits of Dental Implants
Compared with other treatments, dental implants provide many benefits for tooth replacement.
Designed to Last a Lifetime
As long as you maintain good oral hygiene and health, dental implants should last the rest of your life. Multiple scientific publications show that dental implants have a 95-98% success rate for 40 to 50 years.
Preserves Bone and Facial Structures
One of the most significant consequences of tooth loss is the deterioration of underlying bone. Over time, the deterioration of your jawbone can lead to unwanted changes in your facial appearance. Dental implants are the only tooth replacement option that can actively prevent this.
A Healthier Smile
Dental bridges and traditional dentures can cause damage to the surrounding teeth. For example, to get a tooth-supported bridge, you must have at least two adjacent teeth sanded down. Dental implants restore your smile without compromising the health of your other teeth.
Natural Appearance
Dental implants support custom-made dental restorations, which look and behave just like your natural teeth. With dental implants in place, you will be ready to smile confidently and enjoy all of your favorite foods.
---
How Do Dental Implants Compare to Other Options?
---
Are There Any Disadvantages with Dental Implants?
While dental implants have become the standard for tooth replacement and offer many benefits, there are a few disadvantages.
Getting dental implants requires you to have surgery, and as with any surgery, there is a recovery period afterward.
To qualify for dental implants, you need to have sufficient bone tissue (or be willing to have a bone graft).
If you do not take care of your implants, they may not last as long as you want them to.
---
How Will My Surgeon Determine Whether I am A Candidate for Dental Implants?
While most people qualify for dental implants, a few factors may make treatment more difficult. For example, insufficient jawbone may make dental restoration challenging, requiring you to have a bone graft before the placement of your implants. Additionally, the best dental implant candidates already have reasonably good oral hygiene and do not have any untreated oral diseases.
To ensure that you are eligible for implants, one of our doctors will perform a complete physical evaluation of your teeth, jaw, and gums. In addition to this clinical examination, we may also perform radiographic imaging, ensuring we have an accurate, 3-D model of your mouth.
Once your doctor has verified that you are a good candidate for implants, you will learn more about treatment options and have a chance to voice any questions or concerns.
YVONNE'S DENTAL IMPLANTS EXPERIENCE
How are Dental Implants Placed and Restored?
Once we develop your treatment plan and determine whether you need any supportive procedures, you will be ready to begin the implant process.
If you have a tooth that needs removal, the first step will be extraction, and if you do not have sufficient bone tissue for implants, you will require a bone graft. For some patients, we can perform these supportive procedures on the same day as the implant placement. For other patients, it may be necessary to allow time for healing between these procedures.
Implant Placement
Firstly, one of our in-house anesthesiologists will ensure that you are perfectly comfortable during your surgery. From there, your doctor will prepare the surgical site, place the dental implant in the correct position, and position a small cover screw on the implant. We will add temporary replacement teeth as needed, allowing you to maintain a reasonably normal appearance until your dental restorations are complete. The implant will be left to heal for a few weeks, allowing the implant to fuse with the surrounding bone.
Abutment Attachment
Once the implant has healed and bonded in place, your doctor will place a small connector piece, called an abutment, attached to each implant. Abutments essentially help to connect your implants to the replacement teeth. Your surgeon will work with your dentist to ensure the correct type of abutment, but it will often be a custom abutment, allowing your dentist to design the replacement teeth in the ideal shape.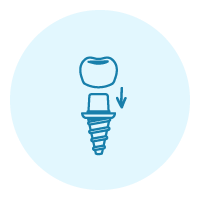 Replacement Teeth
The last stage of the process is the design and fabrication of your final replacement teeth. Your dentist will create impressions of your teeth, along with the abutments, and send them to a dental lab or design them in-house. Additionally, your dentist will select the shade that most perfectly resembles your natural teeth. When the dental restorations are complete, your dentist will attach them securely to the abutments.
Meet Your Team of Board-Certified Oral Surgeons
Post-Op & Recovery
The post-op and recovery period after your dental implant procedure is as important as the surgery itself. It is during this time that the osseointegration process occurs, the dental implant fuses to the jaw bone, and your mouth is healing. Here is what you can expect during your dental implants post-op and recovery.
First, you can expect some downtime. Our experienced oral surgeons recommend resting and relaxing for one week after your dental implant surgery. This is the time to prioritize healing so that the implant optimally fuses with the bone.
Second, there are some symptoms you may experience which are completely normal. These symptoms include:
● Bleeding
● Bruising
● Tenderness and discomfort
● Swelling
● Dizziness
● Nausea and vomiting
● Fever
Minimal bleeding is expected after surgery and may continue for several hours. We recommend using a damp piece of gauze to stop the bleeding. You may also see pink or blood-tinged saliva two to three days after surgery; this is normal and not cause for concern.
Third, immediately following your procedure, you will want to eat a liquid-only diet and avoid eating or drinking items that are hot. Once the numbness subsides, you can then start eating more solid foods. However, our doctors recommend sticking to softer foods for the first couple of weeks after your procedure to ensure the implant is not compromised.
Lastly, practice good oral hygiene and keep your mouth clean. It is important that you do not rinse your mouth on the day of surgery, as this may cause additional bleeding. In the weeks after your dental implant procedure, use a soft-bristle toothbrush that will not agitate the surgical site. If your mouth begins to bleed after brushing, apply pressure with a damp piece of gauze.
---
Why Choose LA-COMS?
Our practice provides high-quality oral surgical care to patients throughout Los Angeles and the surrounding areas. At LA-COMS, we strive to tackle even the most challenging and complex dental cases. Our use of technology is cutting-edge, and we offer state-of-the-art operating suites that allow us to prioritize sanitation, anesthesia safety, and general surgical care.
Above all, our surgeons and staff are hyper-focused on providing ideal customer service. So, you can have a timely and smooth experience from your first appointment to your last. To schedule a dental implants consultation, contact our office in Los Angeles at (310) 842-4811.
---
---